what kind of financial diva are you?
Supposedly I know my stuff...but I think that I mostly am good at memorizing helpful info and tips from other sites ;) I've got the plan, just have to keep on keeping on.
Ultimate Financial Diva!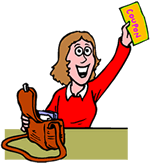 You are one smart cookie with your finances. You have a plan and know how and when to implement it... which means that you can go ahead and splurge on that Coach purse or those Manolo Blahniks because you know how to not only budget, but have a plan of action for your future. You are the envy of all your ramen-munching friends who can only afford regular coffees, not the grande lattes like you. You are the ultimate financial diva! You go girl!
Find
out what kind of finacial diva you are!
at
Womens-Finance.com
Take more quizzes courtesy of Womens-Finance!